The Purple Paradise Club
Corporate Sponsorship Opportunities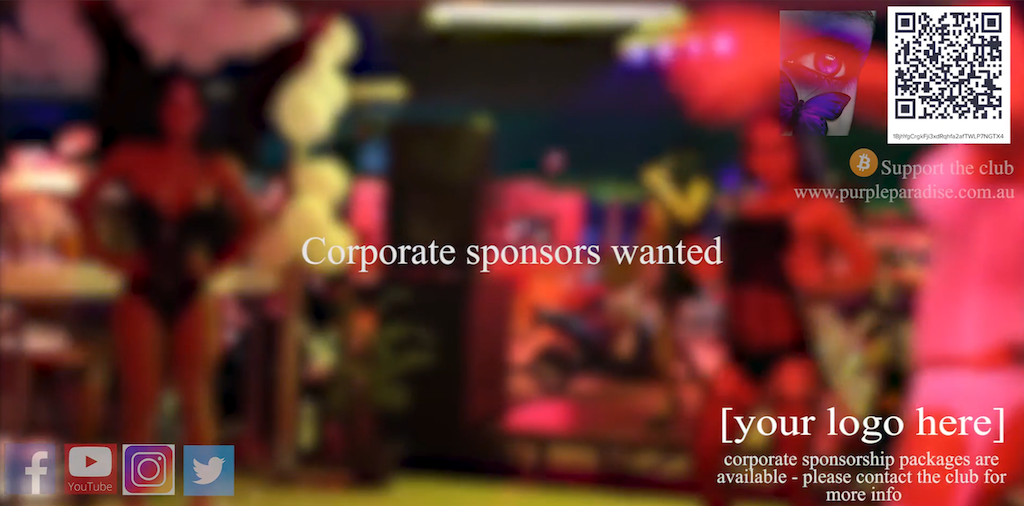 Current Sponsors:
The Purple Paradise Club and its venue partner are looking for corporate sponsors to help us build the hottest trans party night in Melbourne that brings together transsexuals and their male admirers to party. We're basing the night on the successful Jamie's T-Girl nights in LA . We're currently working with a venue partner in Footscray and we hope to make an announcement soon about our nights.
We think this is a unique opportunity for companies to sponsor us and help us make our nights a success. In return for your sponsorship we're offering a number of corporate sponsorship packages to get your companies name and logo out there and your branding prominent on our nights. Our sponsorship opportunities include prominent logo and product placement in our clubs regular YouTube videos, prominent logo placement on the clubs website and advertisements cut into the videos of the clubs nights which will be professionally produced and edited.
We're very interested in hearing from corporate sponsors that supply products and services that our male and transsexual clients buy regularly.
Our transsexual clients are very interested in make up and cosmetics, cosmetic surgery, hair and skin care products, fashionable clothes, ladies shoes and fashion products, ladies watches, high status jewellery and products and services that are considered to be high status and luxury. Travelling often both domestically and internationally our transsexual clients are most interested in flights, accommodation and travel related products and services. Our trans clients need to be in the public eye and they take a lot of photos and videos for their work. Computers, cameras, lights, tripods, microphones and associated audio and visual equipment are important tools of trade.
Our male clients are very interested in products and services that will make them stand out in the crowd on our nights. Trendy clothes, high status watches, fashionable shoes and so on.
We think this is the perfect opportunity for corporate sponsors to help us build our nights and celebrate diversity in the city of Melbourne.
The club and its venue partners would love to have you as a sponsor and help you advertise your products and services to our members.
Working with our new venue partner in Footscray we think we have the opportunity to be the number 1 hottest trans night in Melbourne. This is your opportunity to get in early whilst we're at the beginning of our journey.
The club works with talented local photographers, videographers, audio engineers, video editors and creative professionals to produce advertisements and content for the clubs YouTube and Facebook pages as well as for the clubs website and the website of it's venue partners.
Sponsors our members are most interested in buying from:
1. Flights and Accommodation providers
2. Makeup & cosmetic companies
3. Cosmetic surgery clinics
4. Clothes, shoes & fashion suppliers
5. Hair care products and services
6. Nail salons
7. Luxury Watch retailers
8. High end jewellery retailers
9. Adult toys, products & associated services
10. Computers, cameras, lights, tripods, microphones and associated audio and visual equipment suppliers
11. Day Spa venues
12. Massage service providers
13. Alcohol suppliers
14. Gift suppliers
15. Lighting suppliers
16. Local government
17. Media outlets
18. Food & beverage suppliers
The club has the following sponsorship opportunities available:

1. Logo placement in the clubs videos which are published to YouTube and Facebook and the clubs website and venue partners website

2. Logo placement on the clubs and it's venue partners websites

3. 10s, 15s, 20s, 30s (most popular), 1m or 5m advertisements which are cut into the videos of the nights and made available on YouTube, Facebook, the clubs website and it's venue partners website

4. Product placement on the nights


Please use the form below to register your interest in our corporate sponsorship advertising packages. A club representative will be sure to give you a call to discuss the opportunities in more detail.
Corporate Sponsorship Advertising Packages